Savings and Term Deposit Calculator 
Thinking about saving for a home deposit? It all starts with a dream and sticking closely to a plan. Find out how much you could save with a savings account or term deposit.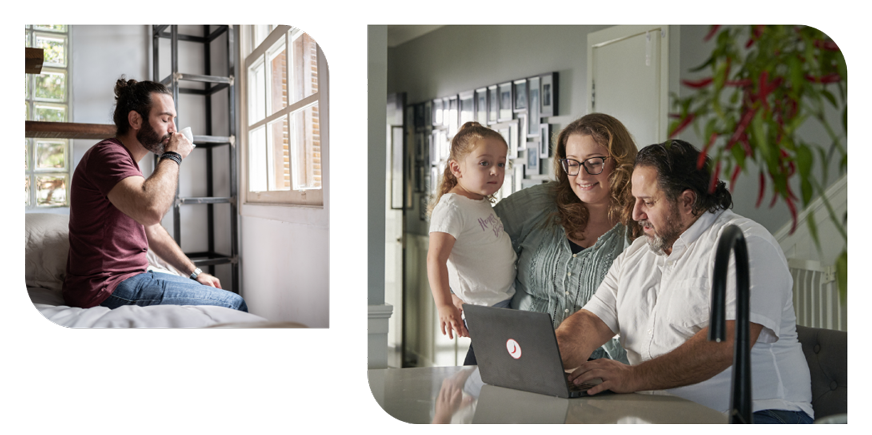 Ready to take the next step?
In less than five minutes, find out what indicative interest rate you might be eligible for.
Let's crunch those

numbers

Our calculators are here to help you along your home buying journey. From working out stamp duty to helping you calculate your borrowing power or repayments.
What others ask about our
calculators
Here's what other savvy home buyers are frequently asking us. If you're still stuck for help, then why not check out all of our home loan FAQs.
A term deposit is an account that locks away your money and invests it for a certain period of time at a fixed interest rate. The length of this term may vary from account to account, but usually lasts between a few months and five years. A term deposit can be useful when saving for big ticket items like a home loan, as it allows you to be certain about the interest you'll earn over the term of the agreement.

Both accounts are similar in that your money earns interest within the account. Savings accounts may have a variable interest rate, in which case the interest earned will be dependent on market conditions – higher when interest rates are raised, and lower when they're reduced. Whereas term deposit accounts are more predictable – these have a fixed interest rate over the term you've agreed to, so you can be certain about the interest you'll earn over the agreed timeframe. Another difference is that you can withdraw money from your savings account at any time, but not from a Term deposit account until the agreed term is over.
As a non-bank lender, we aren't licensed to offer either of these accounts. But if you'd like to see how much interest you may be able to earn with either a term deposit or a savings account then our Savings and Term Deposit Calculator could help.
Important Information
Information provided is factual information only, and is not intended to imply any recommendation about any financial product(s) or constitute tax advice. All applications are subject to credit assessment, loan eligibility and lending limits. Terms, conditions, fees and charges apply. If you require financial or tax advice you should consult a licensed financial or tax adviser.
*The Savings and Term Deposit Calculator calculates the total accumulation in a savings account, at the regular deposit frequency requested or the interest earned on a term deposit for the investment term entered.
The results of the Savings and Term Deposit Calculator are based on information you have provided in the calculator and the assumptions in the calculator (See 'About this calculator'). These are to be used as a guide only. It should not be relied upon. Calculations are not forecasts or projections. 
The interest rates do not reflect true interest rates and the formula used for the purpose of calculating the total savings (deposited money plus interest earned) is based on the assumption that interest rates remain constant for the investment term you have entered. Calculator by Widget Works.
ˇ An indicative interest rate and estimated repayments are not a formal approval for a loan, so don't enter any financial commitments based on it. They are a guide only, based on the basic information you provide and the credit score we obtain for the primary application and is not a suggestion or recommendation of any loan product.