Work out how much stamp duty you may need to pay in each state across Australia.
You can also find out your indicative rateˇ in less than 5 minutes.
  Won't impact your credit score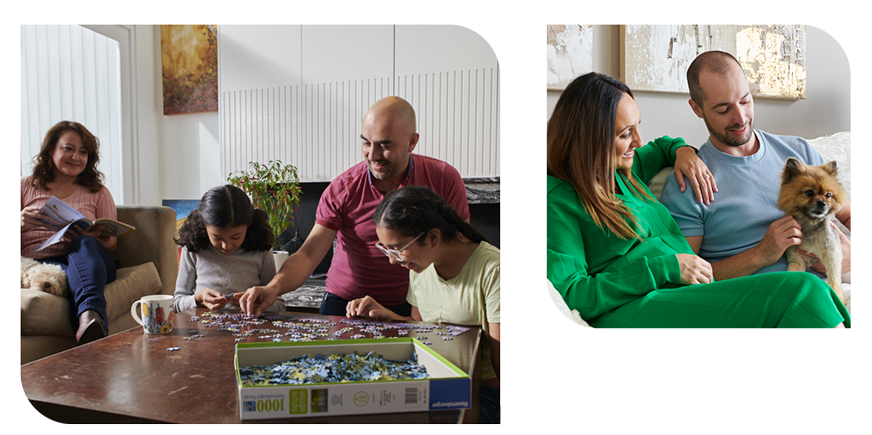 Ready to take the next step?
In less than five minutes, find out what indicative interest rate you might be eligible for.
What other home buyers are asking about stamp duty
There's no point re-inventing the wheel. Here's what other savvy home buyers are frequently asking us. If you're still stuck for help, then why not check out all of home loan FAQs.
Stamp duty is a tax that is charged by State and Territory Governments when you purchase a property or transfer the title to someone else. It's also levied on large asset purchases, like when buying a car.
It usually needs to be paid within 30 days of the property transaction, which is upon settlement of the property in real estate terms. Usually your conveyancer or solicitor would organise to pay stamp duty as part of the settlement process. Just check the process with them.
A few things in life are certain – and one of them is taxes. While stamp duty varies in each state or territory, it generally needs to be paid upfront and can't be added to your loan balance. 
However, there are different schemes and grants in each state to support first home buyers – so it's worthwhile checking if you qualify for any support: First Home Owner Grant
To get an estimate of how much stamp duty you might need to pay in each state in Australia, try our Stamp Duty Calculator.
If you are looking to refinance your loan in Australia, you may need to pay stamp duty. This is generally a one-off fee charged by a State or Territory government on certain types of transactions. It is important to check with the relevant State or Territory Stamp Duty Office if stamp duty applies in your particular situation. 
There are certain instances when you can avoid paying stamp duty. For example, when the names of the borrowers are the same and the amount of the loan remains the same, it might be possible for you to avoid paying stamp duty. In other cases, you might need to refinance with the same lender to avoid this cost. 
Let's crunch those

numbers

Our calculators are here to help you along your home buying journey. From working out your borrowing power to helping reach those savings targets. 
Important information
Information provided is factual information only, and is not intended to imply any recommendation about any financial product(s) or constitute tax advice. All applications are subject to credit assessment, loan eligibility and lending limits. Terms, conditions, fees and charges apply. If you require financial or tax advice you should consult a licensed financial or tax adviser
The results of the borrowing power calculator are based on information you have provided and is to be used as a guide only. The output of the calculator is subject to the assumptions provided in the calculator (see 'about this calculator') and are subject to change. It does not constitute a quote or pre-qualification and you should not enter commitments based on it. Your actual stamp duty fees and charges may be different if a property is purchased. Eligibility for Government grants are subject to specific conditions relevant in each state or territory. These specific conditions are not catered for in this calculator.  You should contact the Office of State Revenue in the relevant State or Territory to confirm your eligibility. Calculator by Widget Works.
ˇ An indicative interest rate and estimated repayments are not a formal approval for a loan, so don't enter any financial commitments based on it. They are a guide only, based on the basic information you provide and the credit score we obtain for the primary application and is not a suggestion or recommendation of any loan product.