What you need to know about charging your electric car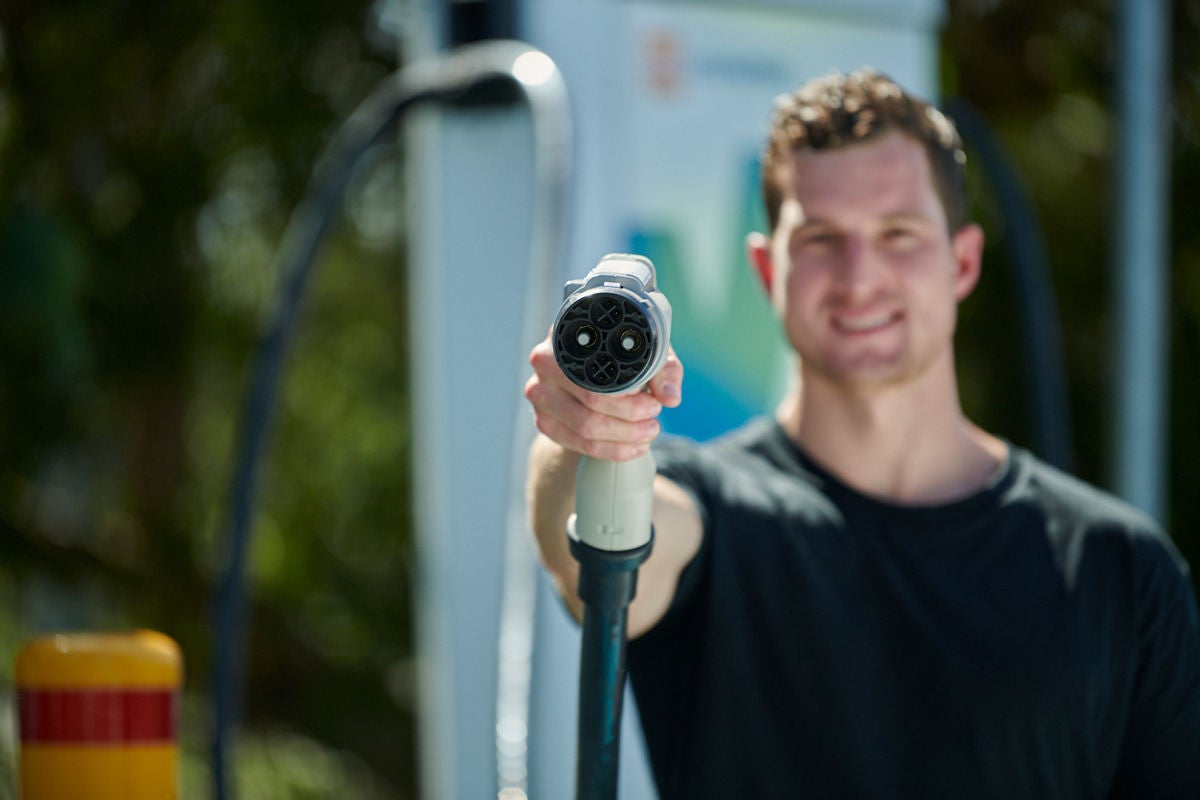 More and more electric vehicles are hitting the road. But where can you charge them, what's the cost involved and how do you get a charger for your electric car? Here's what you should know.
Where can I charge my EV?
You can charge your EV almost anywhere there is a wall socket in close proximity to your car, however you'll need to have time on your hands. Dedicated fast superchargers are continually being installed at shopping centres, petrol stations and highway rest stops across the country. Check out this nationwide charger map to see what's available around you or on your next road trip.
How much does it cost to recharge an electric car?
This depends on several factors; primarily the type of charger and where it's located. But overall, you can save up to 70% on fuel costs by swapping to an electric vehicle.1 Some chargers work on a flat fee, others charge per Kw, while others are free or subsidised by the operator. It's best to check before 'plugging in' but it'll often be cheaper than a full tank of petrol. For example, charging your car for 500km of range through a supercharger will cost you about $37.
What about charging at home?
Are all electric vehicle chargers the same?
There are three different categories of electric car chargers, defined by the amount of power they deliver to your vehicle and the time taken to recharge1.
Level 1: 2.4-3.7kw Standard Wall Chargers

This is the most universally available way to charge your EV: straight into your standard wall socket. However, the drawback for this convenience is that charging can be slow to fully recharge your EV, only charging on average 10-20km of range per hour.

Level 2: 7kw Dedicated Home Chargers

The next step up is an enhanced at home charger (also referred to as a Level 2 Charger or Wall Box), that can deliver roughly 30-45km of range per hour. These charges work much quicker than plugging into your standard electrical outlet due to the specialist installation and equipment provided with the charger, and must be installed in your garage by a licenced electrician.

Level 3 & 4: 25-350kw Superchargers

You can find superchargers on major highways, shopping centres, and car parks across the country. These involve dedicated infrastructure and can provide your EV with anywhere from 150-1000km range per hour - some can even fully charge your EV in as little as ten minutes.2 Perfect for topping up your battery while grabbing a coffee and lunch on a longer road trip – or even while you're popping in to do the groceries.
Want to know more about EVs? We're here to help
If you're ready to embrace the electric revolution, then we're ready for the drive with you. Our industry-leading fixed rate electric car loan has helped thousands of Australian drivers get behind the wheel of an EV. What's more is you can tailor your repayments with flexible deposit and balloon options.
Information provided is factual information only and is not intended to imply any recommendation about any financial product(s) or constitute tax advice. If you require financial or tax advice you should consult a licensed financial or tax adviser.
All applications are subject to credit assessment, eligibility criteria and lending limits. Terms, conditions, fees and charges apply. 
The results of the borrowing power calculator are based on information you have provided and is to be used as a guide only. The output of the calculator is subject to the assumptions provided in the calculator (see 'about this calculator') and are subject to change. It does not constitute a quote, pre-qualification, approval for credit or an offer for credit and you should not enter commitments based on it. The interest rates do not reflect true interest rates and the formula used for the purpose of calculating estimated borrowing power is based on the assumption that interest rates remain constant for the chosen loan term. Your borrowing power amount will be different if a full application is submitted and we complete responsible lending assessment. The results in the calculator do not take into account loan setup or establishment fees nor government, statutory or lenders fees, which may be applicable from time to time. Calculator by Widgetworks.
Pepper Money Personal Loans is a brand of Pepper Money Limited. Credit is provided by Now Finance Group Pty Ltd, Australian Credit Licence Number 425142 as agent for NF Finco 2 Pty Limited ACN 164 213 030. Personal information for Pepper Money Personal Loans is collected, used and disclosed in accordance with Pepper's Privacy Policy & the credit provider's Privacy Policy.

Pepper Money Limited ABN 55 094 317 665; AFSL 286655; Australian Credit Licence 286655 ("Pepper"). All rights reserved. Pepper is the servicer of home loans provided by Pepper Finance Corporation Limited ABN 51 094 317 647. Pepper Asset Finance Pty Limited ACN 165 183 317 Australian Credit Licence 458899 is the credit provider for asset finance loans.
Pepper and the Pepper Money logo are registered trademarks of Pepper Group Assets (Australia) Pty Limited and are used under licence.