The real-life guide to home loans for the self-employed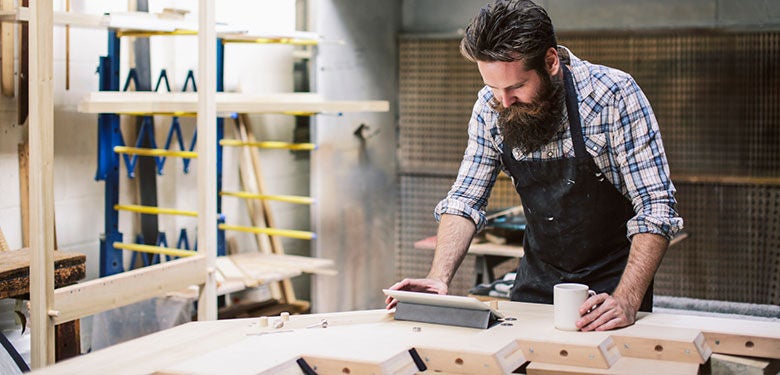 Navigate this article
Alt Doc Loans | Tips to Qualify | Budgeting Tips
Running your own small business comes with a level of freedom and flexibility, but this can leave little time for figuring out how to get a home loan.
Lenders will scrutinise not only your personal circumstances, but also those of your business – which can be daunting. That's why we've put together real-life guide to self-employed home loans, to help take the stress out of the mortgage process.
There are two main loan options for the self-employed:  Full Doc and Alt Doc options. The Full Doc option requires standard documentation, usually including tax returns, financial statements, and other proof of income. An Alt Doc loan could be more beneficial for self-employed individuals who have a good credit history, but have alternative documentation to support their income.
Pepper Money's Alt Doc option considers applications using documentation that's more relevant to a small business owner's circumstance. Typically, the longer you can prove regular income history for self-employment, the higher your chances of being approved for a mortgage. You could be eligible for an Alt Doc option with as little as 6 months ABN and GST registration.
You'll need to provide evidence of:
ABN registration for six months
A declaration of financial position plus one of the following: 6 months business bank statements (inclusive of the last one month) or six months business activity statements (BAS).
How are Alt Doc loans different to Low Doc loans?

Low Doc loans used to be a popular way to apply for a mortgage with minimal documentation, however responsible lending obligations include a requirement for lenders to assess whether a loan is suitable for a borrower. Low doc loans don't meet these responsible lending obligations.
Pepper Money's Alt Doc option meets responsible lending obligations and considers alternative documentation options compared to traditional home loans.
The power of the Alt Doc loan

The Alt Doc option could give you the power to help to buy your own home or invest in property. Refinancing a home loan to Pepper Money could also allow you to consolidate business debt, improve your cash flow by paying outstanding tax debts, or even obtain cash for business purposes. All loan applications are subject to Pepper Money's credit assessment, eligibility criteria and lending limits.
Tip 1: Count on the numbers
One of the things lenders look for when assessing a home loan application is if you'll be able to make regular mortgage repayments. When applying for a Pepper Money Alt Doc option, you'll need to provide paperwork that demonstrates that you've been consistently self-employed for at least six months. You'll also need to provide proof (invoices or other activity statements or bank statements) that you earn a regular amount each month, as well as ABN and GST registration.
It's important for self-employed borrowers to prove a consistent level of income to the lenders when applying for a home loan.
Tip 2: Go with the cash flow
Self employed and want to know more? We're here to help
When talking to a Pepper Money lending specialist, be up front about the ups and downs of your business. The little details matter. While consistent income is a factor when assessing an application, Pepper Money has been helping small business owners with self-employed home loan options across Australia and New Zealand for more than 22 years. We're dedicated to helping self-employed Aussies become homeowners and we understand the challenges facing small business, and how cash flow has a knock-on effect. As one of Australia's largest, most-trusted non-bank lenders, we're in the business of finding home loan solutions that fit your circumstances.

Taxable income can also be confusing for the self-employed. It could be a good idea to talk to a financial adviser or tax professional about how your taxable income could impact how much you can borrow for your loan. They might also be able to help you learn more about available tax deductions and explain how to best set aside money for tax throughout the financial year. Check out our self-employed home loan options and how we can help.
Information provided is factual information only and is not intended to imply any recommendation about any financial product(s) or constitute tax advice. If you require financial or tax advice you should consult a licensed financial or tax adviser.
All applications are subject to credit assessment, eligibility criteria and lending limits. Terms, conditions, fees and charges apply. 
The results of the borrowing power calculator are based on information you have provided and is to be used as a guide only. The output of the calculator is subject to the assumptions provided in the calculator (see 'about this calculator') and are subject to change. It does not constitute a quote, pre-qualification, approval for credit or an offer for credit and you should not enter commitments based on it. The interest rates do not reflect true interest rates and the formula used for the purpose of calculating estimated borrowing power is based on the assumption that interest rates remain constant for the chosen loan term. Your borrowing power amount will be different if a full application is submitted and we complete responsible lending assessment. The results in the calculator do not take into account loan setup or establishment fees nor government, statutory or lenders fees, which may be applicable from time to time. Calculator by Widgetworks.
Pepper Money Personal Loans is a brand of Pepper Money Limited. Credit is provided by Now Finance Group Pty Ltd, Australian Credit Licence Number 425142 as agent for NF Finco 2 Pty Limited ACN 164 213 030. Personal information for Pepper Money Personal Loans is collected, used and disclosed in accordance with Pepper's Privacy Policy & the credit provider's Privacy Policy.

Pepper Money Limited ABN 55 094 317 665; AFSL 286655; Australian Credit Licence 286655 ("Pepper"). All rights reserved. Pepper is the servicer of home loans provided by Pepper Finance Corporation Limited ABN 51 094 317 647. Pepper Asset Finance Pty Limited ACN 165 183 317 Australian Credit Licence 458899 is the credit provider for asset finance loans.
Pepper and the Pepper Money logo are registered trademarks of Pepper Group Assets (Australia) Pty Limited and are used under licence.