Accessing the equity in your home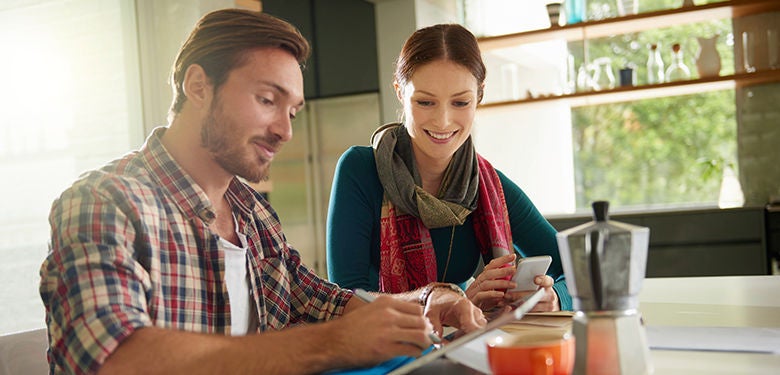 Looking to invest in more property? Perhaps you're thinking about renovating a new bathroom or kitchen. Maybe you're even considering going back to uni. These are just a few reasons you might want to access the equity in your home loan.
Whatever the reason, releasing equity from your home loan could be a savvy way to help bring those dreams to life.
How can you increase equity?
There are several ways that equity in your property can change – either through improvements you've made, market fluctuations, or extra payments.
Capitalising on the equity in your home
You can take advantage of your home equity in several ways:
Buying an investment property
You can refinance your current home loan and use the equity to buy an investment property. The rent you receive can help pay off your home loan, give you funds to invest further, and you may even enjoy capital gains over time.
Renovating your home
Looking to improve your existing home? Accessing your equity could help turn those renovation goals into a reality. When done properly, renovations can increase the value of your property. It's important not to make improvements that cost more than the value they'll add to your property - this is known as overcapitalisation.
Accessing cash out
Whether you're looking to pay off some outstanding debts, pay for upcoming study or purchase a new car or caravan – the power of your equity can be impressive!
How to use equity in your home
You can either refinance your existing mortgage, access cash through redraw, or borrow against your equity.
Think about the risks
Whether you're about to buy an investment property or consolidate debts - there are some potential risks with accessing equity. It's important to consider the value of your home, your credit history, and your ability to meet your repayments before you borrow against your home. Also consider any discharge or exit fees if you're moving lenders.
How much equity can I use?
We allow for borrowers to cash out up to 90% of LVR, while other lenders commonly set the limit at 80% LVR.
Like to know more? We're here to help
If you'd like to find out more about accessing the equity in your home loan then  you can contact one of our lending specialists on 137 377. Alternatively, enquire online and we'll be in touch.
Information provided is factual information only and is not intended to imply any recommendation about any financial product(s) or constitute tax advice. If you require financial or tax advice you should consult a licensed financial or tax adviser.
All applications are subject to credit assessment, eligibility criteria and lending limits. Terms, conditions, fees and charges apply. 
The results of the borrowing power calculator are based on information you have provided and is to be used as a guide only. The output of the calculator is subject to the assumptions provided in the calculator (see 'about this calculator') and are subject to change. It does not constitute a quote, pre-qualification, approval for credit or an offer for credit and you should not enter commitments based on it. The interest rates do not reflect true interest rates and the formula used for the purpose of calculating estimated borrowing power is based on the assumption that interest rates remain constant for the chosen loan term. Your borrowing power amount will be different if a full application is submitted and we complete responsible lending assessment. The results in the calculator do not take into account loan setup or establishment fees nor government, statutory or lenders fees, which may be applicable from time to time. Calculator by Widgetworks.
Pepper Money Personal Loans is a brand of Pepper Money Limited. Credit is provided by Now Finance Group Pty Ltd, Australian Credit Licence Number 425142 as agent for NF Finco 2 Pty Limited ACN 164 213 030. Personal information for Pepper Money Personal Loans is collected, used and disclosed in accordance with Pepper's Privacy Policy & the credit provider's Privacy Policy.

Pepper Money Limited ABN 55 094 317 665; AFSL 286655; Australian Credit Licence 286655 ("Pepper"). All rights reserved. Pepper is the servicer of home loans provided by Pepper Finance Corporation Limited ABN 51 094 317 647. Pepper Asset Finance Pty Limited ACN 165 183 317 Australian Credit Licence 458899 is the credit provider for asset finance loans.
Pepper and the Pepper Money logo are registered trademarks of Pepper Group Assets (Australia) Pty Limited and are used under licence.